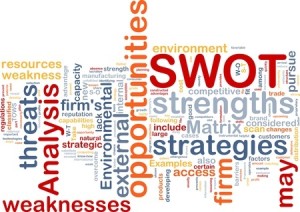 Are you paying enough attention to your competition? Whether a company is B2B or B2C, performing periodic audits on the competition can provide valuable information. Here are a few ways to gather business intelligence:
Look at your competition's website and other marketing avenues to try to get a sense of their unique selling proposition. Maybe it's amazing service, overnight delivery, low price or green business practices. What can you learn from what they do well and apply it to your business?
Get a feel for their customer service efforts. You might call their customer hotline. Are you immediately put on hold? For how long? Is the music pleasant? Once you do get through to a sales or customer service rep, are they pleasant and helpful? Would you want to do business with them after this experience?
Stay alert. Consider setting up Google Alerts on each competitor and its key people. You can set up alerts by company name, individuals' names, keywords and more, and have them delivered to your inbox daily.
Tune into their social channels. It's a great way to keep up with the latest news, products and/or services of your competition. Since social channels are becoming an increasingly popular and effective way for companies to recruit and retain customers, you'll want to make sure your online efforts are every bit as good — or better — as theirs.