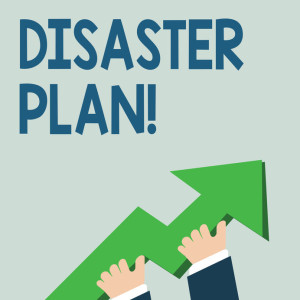 Everyone knows that life happens, and sometimes terrible events can bring a person to their knees. The same is true for your business as well. Disasters can come out of nowhere and destroy years of hard work in an instant.
Planning for disaster can help ensure your business survives an earthquake, flood, blackout, cyber attack or other serious disruption. Not planning, or not planning enough, can lead to huge losses, layoffs and even business failure. While most large companies have done a significant amount of disaster planning, many small or home-based firms haven't planned any at all.
You should have a disaster plan not only to protect your business but also to protect your employees and your customers. So where do you begin? With a business continuity plan. Here's how to create one of your own:
Know your risks. The first step to creating a disaster plan is understanding what risks your business faces. Identify the specific risks that could affect your business. Your risks will depend on what type of business you have and will help you determine what needs to be included in your plan.
Map out your assets. Next, identify your critical (and vulnerable) assets, such as your physical facilities, your business data and your technology. These are the assets that without which you couldn't operate very well or at all. Be thorough in your planning. Do you have one major supplier or customer that you couldn't survive without? And of course, don't forget your most important people. What would happen if something happened to your best manager or employee? What would happen if something happened to you?
Take steps to protect your assets. Once you have identified your assets, you'll need to figure out how to protect each one of them from disaster. Talk to your insurance agent or visit Gross Insurance Agency to learn about business continuity coverage, key person insurance, life insurance and other types of coverage that can help your business survive in the event of a disaster. If you rely on office space, do you have a plan for where to house your employees if your office is damaged or destroyed in an earthquake or flood? Is your most important company data backed up off site?
No business is immune to disaster, whether it's a natural disaster like a hurricane or tornado or a man-made disaster like a fire or theft. That's why it's so important to have a disaster plan in place for your business. A good disaster plan will help you minimize the damage to your business and get back up and running as quickly as possible. If you don't have a disaster plan, now is the time to create one. It could be the difference between your business surviving or not. So do your business a favor and make sure you're prepared for whatever life throws your way. You can find more infomation on creating a plan for your business here.