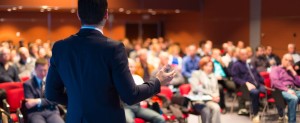 Do you have an important company event coming up? Whether it's a company anniversary picnic, fundraiser, conference or reception, you can be opening your business up to specific liability exposures when hosting a corporate event. There is a type of liability insurance specifically designed to cover this exposure. It is called event liability insurance or special event insurance.
Even though you want your event to go off without a hitch—you know accidents are bound to happen. A speaker can fall off a podium; special lighting can fall and injure event attendees; or a fight could even break out among your guests. Although it may seem unlikely to you, any of these unfortunate mishaps and more can occur at your company event. (We all have heard some crazy office holiday party stories and you may have a few of our own to tell!)
Event liability insurance covers you for these types of bodily injuries or property damage that can happen to third parties who are attending your event. This is a relatively inexpensive coverage and it allows you to host your event with peace of mind. Just one thing—you must purchase event liability insurance in advance of your company function.
Another consideration for a small business that does not have general liability coverage: many venues will not allow you to use the venue without liability insurance. This is where an event liability insurance policy can help. You certainly don't want to pay for any claims out of your own pocket.
In some cases, you can even have a cancellation clause written into an event liability insurance policy that covers your losses (lost revenue, lost deposits, etc.) if the event has to be cancelled due to unforeseen circumstances such as a weather event or a key performer declining to show up at the last minute.
If your company is planning a special event, we'll be glad to discuss your event liability insurance options. http://www.gross-ins.com