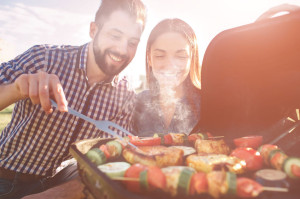 Do you love BBQ dinners during the summer months? Few things are as all-American as a summertime barbecue. It's a great way to cook on hot summer days. But a backyard cookout can turn dangerous and even deadly if you don't follow some important safety rules. Here are some simple ways to enjoy a fun and safe backyard barbecue:
Review your grill's operating manual. Follow directions for your grill. If you've acquired a used grill, visit the manufacturer's website to see if the grill has been recalled. Many grill manufacturers have operating instructions and recall announcements online for each type of grill.
Give your grill some space. You'll want to make sure that your grill is at least 10 feet away from your house or any building. This is important! A significant number of home fires are caused by grills that are too close to a home, trees or other structures. Make sure you have enough room to open the lid completely before you light the grill if that's what the manufacturer recommends. Propane gas can build up and explode if you don't.
Keep your grill clean. Grease or fat buildup can cause a fire.
Cook foods thoroughly. Always use a thermometer to make sure meats are fully cooked. Keep foods at proper temperatures. Food poisoning can occur when raw meat reaches a temperature where harmful bacteria can flourish. The basic rule: Keep cold food cold and hot food hot.
Keep those hands clean. Don't put cooked meat on a plate that has had raw meat on it. Wash your hands thoroughly after handling raw meat. If you're camping and hot running water isn't available, pack plenty of hand sanitizer and use it on your hands before you touch food.