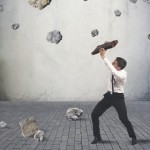 It's a fact: Disasters such as floods, fires and earthquakes can cripple a small company. That's why it's not surprising that at least one-quarter to one-half of businesses don't survive when disaster hits. But experts say there are two steps a business can take to dramatically increase the odds of survival after an adverse event such as a fire, flood or earthquake. They are:
Purchasing the right insurance. Understanding your business insurance policies – and having the right kind of insurance – is key to surviving a disaster. Depending on where the business is located, for example, flood or earthquake insurance could make sense. Would a temporary loss in revenue be a huge problem for your business? Your insurance agent can discuss business interruption coverage and whether it makes sense for your company. Sizing up your risks and meeting with your company's insurance agent is an important first step in disaster planning.
Making plans. Planning also can dramatically increase a company's odds of survival. A business continuity plan addresses all of the ways a company can continue to do business after a disaster. That includes, among other things, planning in advance for alternative facilities, equipment and supplies, power, communications and computer systems. A disaster response plan takes that idea one step further and sets up a framework for how to respond on the day of a disaster. Employee training is a big part of any disaster response plan, as well as periodic testing of your company's plan.
Want to know more? Check out this case study of a company's efforts to improve its disaster plan. You can also find free continuity plan resources at this link.